Amy Gutmann (Dean/Prof) ~ Diabetic Alert Dog & Private Training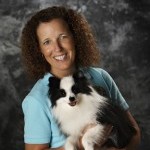 I grew up in the Cleveland area and have always had a love for and a special rapport with animals. During my youth I had Golden Retrievers and trained and showed horses. I graduated from Indiana University with a B.A. in Psychology, specializing in the learning process, behavior modification and child development. After college, I worked as a paralegal for 12 years while at the same time involved in various dog training programs and studying well known training methods.
I started a premier breeding program for Labrador and Golden Retrievers in 1992. All of my litters are AKC registered, thoroughly genetically screened, bred for sound temperaments and raised in a family setting. Link: Royal Retrievers.com.
I opened The Canine Tutor, Inc. training business in 1994. The business was primarily private in-home training for families with new pups, rescue dogs and dogs with behavior issues. I conducted beginning obedience and Canine Good Citizen classes for area community education programs. I also conducted animal care and safety classes for pre-school and elementary schools. This led me to do pet therapy with my Delta Society and Therapy Dog International dogs for special needs children at local schools as well as Cleveland area nursing homes.
I expanded my training business in 1999, into a large indoor training facility, Canine University of Ohio. Here we ran a wide variety of classes from Puppy Kindergarten, to Canine Good Citizen/Pet Therapy to Agility.  Classes are designed to instruct owners on how to establish a leadership position with their dog while still being best friends.  Classes are fun classes for individual owners, families, children and their dogs. We trained approximately 200 dogs per week at the facility.
In early 2015, I closed the Bedford Heights training facility and began my new avenue of Diabetic Alert Dog training, aka Alert Canine Training. I have seen and experienced the good DAD programs as well as the very bad. It is my mission to provide the highest quality and most personable DAD training to diabetic individuals. I have developed a program that I blend young Labrador puppies into the diabetic's life at a much earlier point than most programs. I strongly feel that in doing so the pups will begin alerting much sooner and more reliably. In addition, the program is much more affordable than many across the USA.
As a parent, trainer and retriever breeder, I have a wide understanding of the many day-to-day facets that impact a dog's behavior and how to positively and effectively deal with them. I tailor the private in-home training to specifically address the owner's and dog's needs and have the goal for the dog to be the family's "Best Friend." I use a very effective positive motivational training method. Private training is conveniently arranged around the client's schedule. I have worked with thousands of dogs/clients during the past 20+ years, all ages and all breeds.
Some of my personal canine accomplishments are: TDI evaluator since 2000; pointed Labrador Retrievers in Conformation; Rally Obedience and Agility titles; member of Cuyahoga Valley Golden Retriever Club, Lake Erie Labrador Retriever Club and Association of Pet Dog Trainers; personal trainer for dogs in the movie Miracle Dogs (Animal Planet movie); and, most importantly have saved many dogs from being euthanized via my personal training.
Marty Schilling ~ General Professor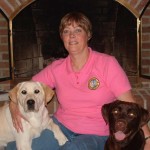 I have always had dogs and/or horses in my life. I started working with Amy Gutmann when she began dog training in the early 1990's. At Canine University I have been an assistant and/or instructor for Puppy Kindergarten, Household Obedience, Canine Good Citizen, and Pre-Agility classes. I also do private training.
Kids are of special interest to me and I enjoy working with the children who come to classes at K9U with their parents. I have been breeding Labrador Retrievers for the past 18 years and have raised many puppies. I currently have two dogs.